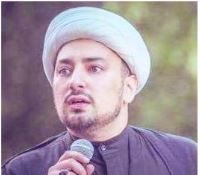 When:
10/18/2019 @ 7:45 PM – 9:45 PM
2019-10-18T19:45:00-05:00
2019-10-18T21:45:00-05:00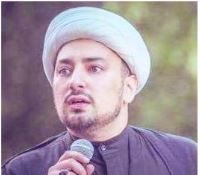 H.I. MOULANA SHEIKH HASNAIN ALEEM MIR
Residence: London, England, U.K. Majalis
Dates: Tuesday, October 15 to Saturday, October 19, 2019
Program Note: Majalis will be addressed in English
Dates of Significance: Majlis-e-Shahadat Imam Ali Reza( as) – Tuesday, October 15, 2019 Arba'een – Saturday, October 19, 2019
About the Islamic Scholar: Moulana Sheikh Hasnain Aleem Mir Born and raised in the UK where Shaykh com-pleted his secondary and higher education, and then graduated with a Master's Degree in Pharmacy from the UK and became a member of the Royal Pharmaceutical Society of Great Britain, before embarking upon his profes-sional career as a Pharmacist. Thereafter, Shaykh embarked upon his formal Islamic studies at the Hawza in Sayeda Zainab, Damascus, Syria, where he covered numerous subjects. Since returning to the UK, Shaykh has taken up all the practical duties and ceremonies of an Islamic Scholar from fulfilling the first birth rights through to the final burial obligations and everything in between. Alongside this, Shaykh has completed his second Master's Degree in Islamic Education with the University of Winchester and is now intending to embark upon his PhD in Islamic studies. Shaykh also continues to practice as a UK registered pharmacist alongside being a life coach and counselor. Shaykh has guided Hajj and Ziyarat groups and led youth and senior spiritual camps and retreats across the globe. Shaykh has been lecturing extensively in the UK, Europe, Middle East, Far East and North America. Shaykh's areas of In-terest include Self-knowledge/Awareness, Islam and Science, Inter/Intra-faith co-operation, Youth and social is-sues, Islam in the western world, Theoretical spirituality vs. Practical religiosity.
https://www.iechusaini.org/wp-content/uploads/2019/10/HasnainAleemMir.jpg
175
200
Murtaza Jaffery
https://www.iechusaini.org/wp-content/uploads/2018/12/ie-logo.png
Murtaza Jaffery
2019-10-13 16:14:38
2019-10-13 16:14:38
English Majalis Safar 1441 /2019 H.I. MOULANA SHEIKH HASNAIN ALEEM MIR